Fellow gamers. What was that? As someone who is not even that big of a consistent player of Square Enix's massive catalog, I too, am a fellow victim within the collective cringe and confusion that was the Square Enix Presents showcase at this year's E3.
While huge Final Fantasy XIV fans were perhaps expecting a few more updates on Endwalker and others were more expectant to hear about Square's more iconic properties—like new information on Final Fantasy XVI—we absolutely got neither of those things! Instead, Square Enix decided to present us with a gauntlet of titles that seemed to have no cohesion to each other and not even the allure to keep our attention on them. That is to say, not everything was terrible—and some reveals have yielded some rather unexpected reception!—but was this really a Square Enix show when it felt more like a Marvel one? Even Balan could have not saved this.
According to (probably) some philosopher I cannot immediately cite right now, to feel pain is to feel human, and at least that pain has brought us all together.
Join Not!Chris Pratt and Friends in Eidos-Montréal's Guardians of the Galaxy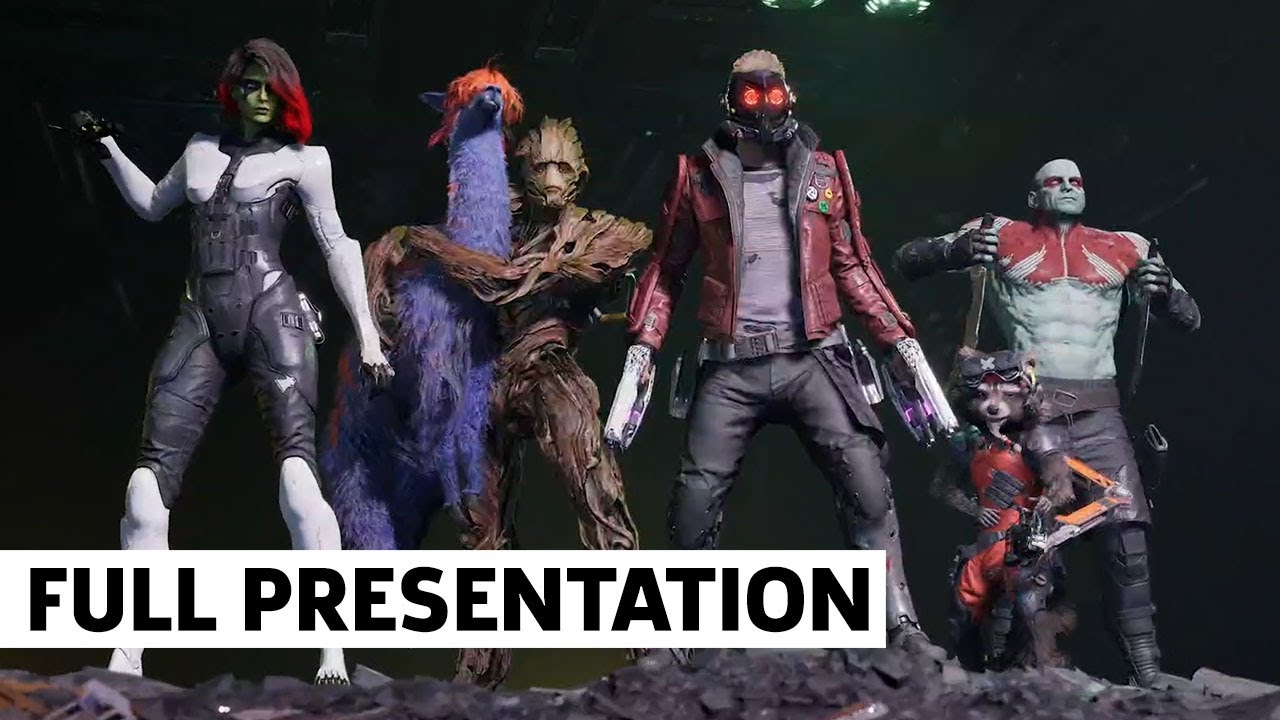 This is pretty self-explanatory. Rumors of a Guardians of the Galaxy video game have been swirling around for some time now, and Marvel is certainly not stopping any time soon to expand their branches out into every single piece of media ever to secure their legacy in our pop culture. It is coming to all consoles (except the Switch) on October 26. The problem: a huge quarter of Square Enix's presentation was dedicated to this game alone. With the added issue of having way too much in-game dialogue for the sake of needing to crack a joke every minute, I think I will let the footage they presented speak for itself.
Freed From Their Mobile Prison, Final Fantasy I–VI Will Also Be Playable Through Steam

A lot of Square's ports of their titles into portable form of their big mainline titles are bad. Like real bad. As part of their new "Pixel Remaster Series" venture, they have announced that the first six mainline Final Fantasy games are now getting new remasters across not only mobile platforms, but also on Steam! It is great to revisit older titles when they are no longer as easily accessible, but hopefully Square's attempt to do so does not suck this time.
And Many Years Later, Legend of Mana Gets a Shiny New Coat of Paint Too

This is also pretty neat! Legend of Mana is also getting its own remaster treatment on June 24 for the PS4, PC, and Nintendo Switch.
I Don't Know Who is Still Torturing Themselves Playing Avengers, But Wow, Here's An Update I Guess

Although not particularly new information even for Square Enix's own presentation, Marvel's Avengers is getting more content, one of them being the official Black Panther update. (Again. This is not new. Yet they dedicated maybe a good several minutes on this?)
I Thought Square Enix No Longer Owns Hitman, But Here's Hitman Sniper: The Shadows

Entering now the live-service title portion of the showcase, Hitman Sniper: The Shadows is a "free-to-play" mobile spinoff that takes place in a totally different world distinct from the franchise without the staple protagonist, Agent 47. Pick your assassin; you now follow a new cast of colorful characters without little much else known about how this game will actually work.
Babylon's Fall Literally Looks Like Everything Else

A couple of more live-service games later, Babylon's Fall is PlatinumGames' new title to their library that is–that's right!–a co-op live-service title that looks awfully generic compared to many other fantasy titles of its sort out there right now. Although speculation on this game may have been initially eager, the allure of what this could be is completely lost with its utterly boring visuals and barely unique gameplay, despite boasting it will have elements similar to Nier: Automata. 
Life is Strange: True Colors Shows That, Damn, Being An Empath Is Hard Amirite
After announcing that the original Life is Strange is getting a "remaster" by simply adding a filter over it, the third game in the series, True Colors, had some spotlight showing off more gameplay. Singer-songwriter mxmtoon had a brief moment to vouch for the game, providing the singing vocals to our main protagonist. For a game that seems to depend on the concept of color-coding emotions, hopefully that doesn't shut out a decent number of people in our population from playing this on September 10.
I WAS TELEPORTED INTO A JRPG WORLD AND HAVE TO NOW KILL CHAOS! (Stranger of Paradise: Final Fantasy Origin)

Rumors of a "Final Fantasy slash Nioh" hybrid of sorts have also been circulating around some time, and that ridiculous prophecy has been finally fulfilled in the presentation of Strange of Paradise: Final Fantasy. Admittedly this was the most interesting title that stood out to me in the whole show. But admittedly, this was also the most interesting thing for all the wrong reasons.
You can check out the memes for yourself: If the beloved boyband cast of Final Fantasy XV could be compared to the models for Abercrombie & Fitch, we have downgraded to the men's clearance section at the Gap. Although there is promise with the gameplay shown of this rather surreal world, this juxtaposition with our rather generic male archetypes had little to no rationale offered to us as to why they are in this setting. There is a theory that this may be of a certain flavor set to the isekai genre, in which our rather very normal group of men were probably transported into this fantastical world by accident (coincidentally sharing a title with an unrelated manga). With the appearance of a significant antagonist of the first Final Fantasy, is this going to be a canonical prequel to the very first title in this huge franchise? We currently do not have answers to that and many other things, but as far as I know, Jack really wants to kill chaos.